Back again friends! I finally had a chance to snap some pictures and I'm excited to share how I taught all about the Letter Mm.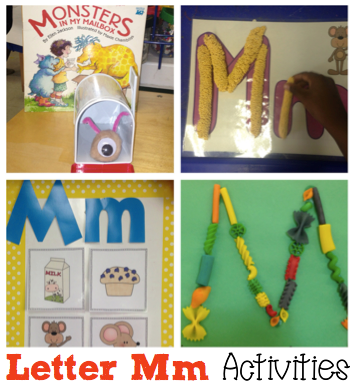 I introduce each letter with a "mystery bag." Inside said "mystery bag" are various objects that begin with the focus letter sound. I make a huge theatrical production of taking each item out and emphasizing the beginning sound "Mmmmmmmmmmonkey!" and "Mmmmmmmmose!" We then add our
beginning sound pictures
to our beginning sound picture wall that will eventually turn into our word wall when my little scholars are ready.
I always incorporate phonological and phonemic awareness during whole group and this week I reviewed the sounds from the previous weeks /k/, /h/ and /m/ to practice matching the pictures that have the same first sound..otherwise known as alliteration! Each student was given a picture and they took turns coming up and placing their picture on the /h/ /h/ heart, /k/ /k/ kettle, or /m/ /m/ mug. This activity also served as a great informal assessment.
This week we read the story Monsters in my Mailbox and my little scholars LOVED it! The monsters have names that rhyme (Winky, Finky, Stinky) and there is lots of use of the Letter Mm (they made mudpies, ate marshallows, etc). We had a special delivery in our classroom mailbox....a monster of our own! Tomorrow they will get to make little monsters to take home! :)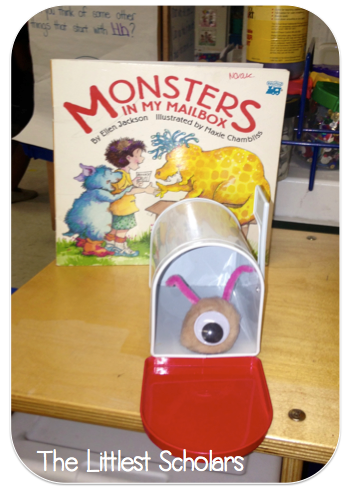 During centers my little scholars made the Letter Mm out of play foam--a totally fabulous alternative to playdough since it doesn't dry out, made macaroni Ms, made
Letter Mm ABC necklaces
, and searched for letters at the sensory table.
Students also reinforced their learning in whole group by using my beginning sounds practice pages to match the pictures that begin with the /m/ sound.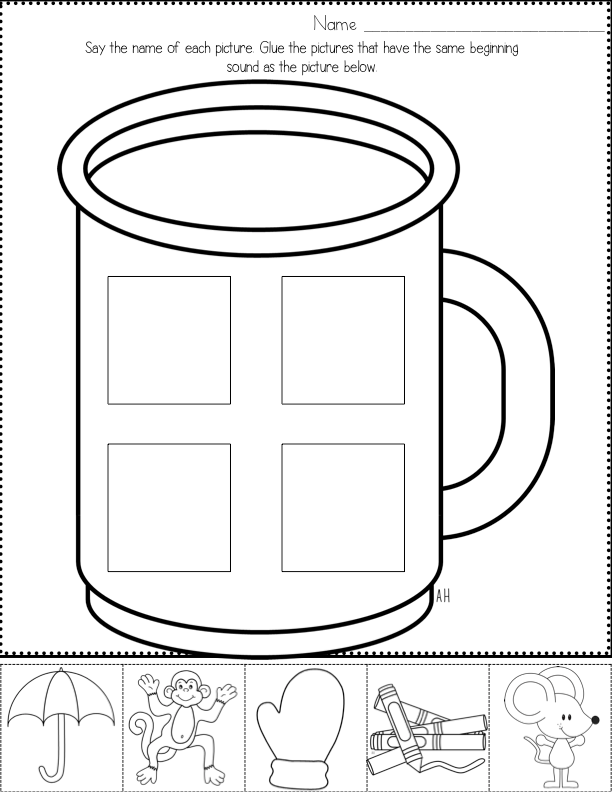 I also worked on concepts of print and phonics using this alphabet reader with small groups. Students read each page"/m/ /m/ monkey." My little scholars were thrilled that they knew how to "read!" You can grab the Letter Mm alphabet reader for free by clicking the picture below :)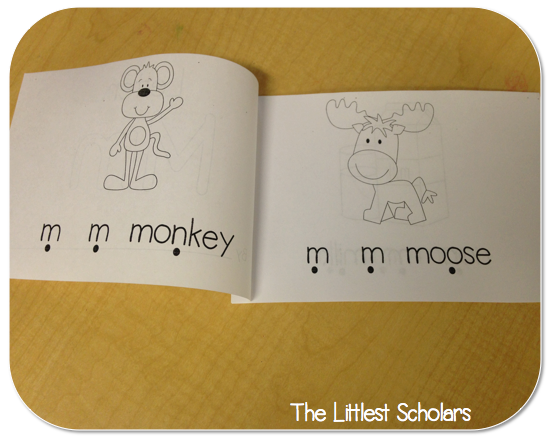 For the complete set of alphabet readers, click the picture below!
Hope you are having a fabulous week! :)