I just finished my Monster Math Pack and am so excited to share it with you! It is over 55 pages of engaging math fun. I included I Can Charts and Student Recording Sheets for each activity except the I Have...Who Has? game. My kiddos have been doing the activities in my class and they just l-o-v-e it! I didn't intend for it to include so much but I got a bit carried away :) Since it is Valentine's Day weekend and I love all my bloggy friends, I am going to give away the Monster Math Pack to the first 5 people to comment on this post. Be sure to leave me your email address. Click the image below to visit my TPT store!
Since love is in the air I thought I'd share a Valentine's Day Freebie! My kiddos are obsessed with any type of Roll, Count, Cover game so I made one for Valentine's Day. We aren't making number sentences just yet but I've included a recording sheet if your kiddos are already doing that. Click the image below to download the freebie!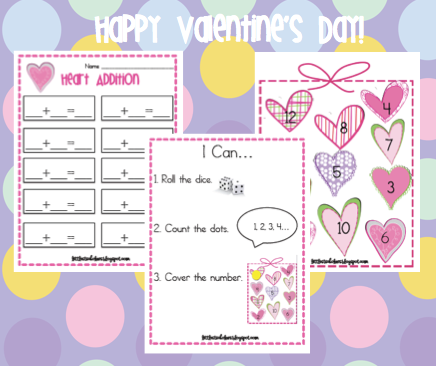 Enjoy the rest of your weekend!