Today was our End of Year Celebration! I had 15 of my 20 parents/families attend and we had a great time. I started by handing out our fun class awards (thank you
Reagan
!). Aren't they adorable? My kiddos just LOVED coming up to get their awards!
Then my kiddos got the gifts my mom and her BFF sent from California. I teach in a very rural and economically disadvantaged area so my mom and her BFF have become the "room moms" and send boxes upon boxes of goodies for my kiddos throughout the year. It has been such a blessing!
Each kiddo got a bucket with a Word World DVD, Word World stickers, and pictures from throughout the year.
They also each got 2 summer fun bags! One bag had all sorts of fun activities like puzzles, coloring books, jump ropes, etc and the other bag had books. Between this and the summer homework, my kiddos should be busy this summer!
Such cute bags!
All kinds of fun!
What 6 year old doesn't love Max and Ruby?
Books, books, and more books!
At the end of our celebration I played the DVD I made for the parents and families. Last year it took me what seemed like 20 hours to put together and this year I had created it and burned 20 DVDs in 2 hours! That left me time to make these super cute DVD labels...
Link up at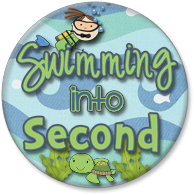 and
to share your end of year celebrations!
Off to plan some super fun activities for the last 2 days with my little scholars!